NSG Information
Join the team at NSG. Competitive pay, sign on bonuses, and great benefits.
COME DRIVE FOR THE NSG BRAND
COMPANY DRIVER ADVANTAGES
Sign-On & Relocation Packages
Competitive Weekly Pay
Home on Weekends
Quarterly Mileage Bonus + Other Bonuses
Paid Holidays & Annual Vacation
100% employer-paid health insurance
Vision, Dental, 401K Matching + Other Benefits
OWNER OPERATOR ADVANTAGES
$3,000 Sign-On Bonus
Competitive Weekly Pay
Fuel & Tire Discounts
Lower than Industry Standard Deadhead Miles
Lease to Own Trailer Program
Join the NSG Team Today! Call 833-549-0930 or Apply Now!

Related Videos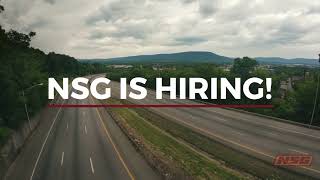 Company Hiring Area
Search Other NSG Jobs