Hiring Class A CDL Truck Drivers
Earn more every mile with highest CPM pay increase EVER. Join the Wylie team and become the best.
WHAT DRIVES YOU DRIVES US
Drivers are the driving force of our economy. We treat you as such. It starts with top CPM pay, and continues with great benefits plus top-of-the-line equipment and reasonable home time.
WHY WYLIE?
Truck driving careers with Wylie provide one of the best pay packages available. Not only that, you have the chance to work with a tough team of incredible people who, together, make the most challenging loads on the road look easy.
Wylie Tough Drivers Can Expect:
Largest pay increase - Top drivers earning up to 65 cents/mile
Updated truck and Flatbed equipment to keep you moving, the Wylie way.
We're dedicated to getting you home on time, every time.
100% Paid Medical Premium available
Call 844-661-2561 or Apply today for CDL-A company truck driver job at E.W. Wylie!

Related Videos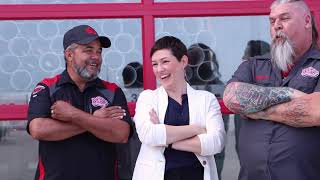 Job Post Hiring Map
E.W. Wylie company Information
ABOUT WYLIE
Wylie Corporation has been a leader in the trucking industry since 1938. For small customers, Fortune 500 companies, and everything in between, we have the fleet to get it done, and drivers who go the extra mile.
TRUCKING SERVICES TO 48 STATES AND ALL CANADIAN PROVINCES.
We offer general freight hauling, a brokerage department, and an asset-based fleet of equipment. And it's all delivered to you with the outstanding customer service we're known for. We have earned a Satisfactory DOT safety rating and numerous national and state driving safety awards.
A DRIVER-FOCUSED TRUCKING COMPANY
The hundreds of drivers we employ are a testament to that fact. Our team includes both company drivers and independent owner operators. If you're looking for the best truck driving jobs, take a look at our employment opportunities.
Call 844-661-2561 or Apply today for CDL-A company truck driver job at E.W. Wylie!
Search Other E.W. Wylie Jobs