Find The Right Driver Job For Your Lifestyle!
EARN MORE WHEN YOU DRIVE FOR HIRSCHBACH! NOT YOUR TYPICAL TRUCKING COMPANY DRIVER FOCUSED. DRIVER FIRST.
NOT YOUR TYPICAL TRUCKING COMPANY! FIND YOUR SEAT AT HIRSCHBACH DEDICATED - OVER THE ROAD - ON SITE - TEAMS - LEASE - CDL TRAINING.
JOIN THE ELITE FLEET DRIVE FOR THE BEST!
$1,000 Sign-On + $1,000 Orientation Pay
*Call Recruiter for Full Details
Company Highlights
$.50/mile for all miles
Monthly Safety & Performance Incentive
$75 Minimum Load Pay
99% No Touch Freight
Layover Pay
Stop Pay
Inverter
Refrigerator included
WiFi Enabled Trucks
Free SiriusXM
Company Drivers Enjoy:
Medical, Dental, Vision
Free $10,000 Life Insurance
401K with Match
Critical Illness Options
Lease Highlights
New Pay Incentives = More Money in Your Pocket Top performers earning $200K+ per Year
$.99/gallon fuel regardless of pump price
Weekly Safety Incentive - $.10/mile for every mile driven during the week for safe driving
Monthly Safety & Performance Incentive - $.10-$.30/mile for all miles over 4,000 driven in the month for safe driving and performance
99% No Touch Freight
Practical Mileage Pay - no less than $1.00/mile
Free SiriusXM
Lease a truck from Next Level Leasing and get:
Maintenance plan
2019-2022 Fully Specced Trucks
Inverter • Refrigerator included
WiFi Enabled Trucks
Related Videos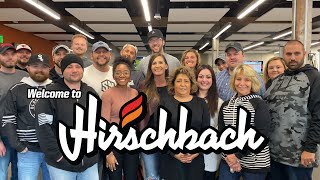 Job Post Hiring Map
Hirschbach Motor Lines company Information
Hirschbach is a refrigerated carrier established in 1935. Hirschbach's fleet is among the newest, most fuel efficient, and environmentally friendly in the trucking industry. Everyone associated with Hirschbach receives the personal touch of a smaller carrier along with access to the best services and technology in the marketplace today. We specialize in delivering fresh and frozen products across the United States along with offering experience in handling dry goods. Hirschbach is a company built on strong relationships with our family of customers, drivers, employees, vendors, and partner carriers. We welcome you to join our family! Environmentally we are committed to putting the most efficient equipment on the road as a result of our Green Fleet Strategy. Our goal is to become the most fuel-efficient fleet in the trucking business while providing best-in-class service to our customers.
Search Other Hirschbach Motor Lines Jobs