K&B Transportation Information
NOT JUST A JOB BUT A CAREER! At K&B there is prime opportunity to find the perfect position to meet your needs. We offer a variety of positions from National & Midwest Over-the-Road, Dedicated Fleets and Home Weekend driving careers.
Drive 2020 and Newer Freightliner Cascadias and earn Top Pay!

Traditional OTR Drivers Start at (60 CPM) with raises to (64 CPM) for senior drivers $1500 per week minimum guarantee but can earn $1800 plus on top weeks!
Road Warrior Start at (70 CPM) with a $1750 per week minimum guarantee but can earn $2000 plus on top weeks!
2020 and Newer Freightliner Cascadias (APU's, Refrigerators and more), 100% Automatic!



Benefits
Fly to Orientation - Worried about how you will get to our orientation? Don't worry we have you covered. That's right, once you're approved to attend our orientation, we can fly you out to our main location in South Sioux City.
Home Time - Just like our commitment to on time delivery, we make the same commitment to getting our drivers home on time. Drivers enjoy regularly scheduled home time on the days they choose.
Insurance - Our insurance plan offers life, health, vision and dental coverage. You choose between either Plan A which offers lower co-pays and deductibles, or Plan B which offers greater affordability
Vacation Time - We know that everyone wants to take a break now and then. That's why we offer our drivers a liberal vacation package.

Bonuses

- Want to earn more on your paycheck? We have multiple bonuses in addition to your normal mileage pay. These include a driver referral bonus, safety bonuses for every 6 months of safe driving and clean inspection bonuses.

Not a Number

- When you join our team, you're not just a number to us. We take great pride that our drivers and dispatchers know

each other by name and develop professional relationships
Have a Class A CDL and 6 months OTR experience? If so get the top paying job you want! Call 877-330-1185 or Apply Today!
Related Videos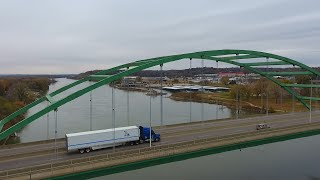 Company Hiring Area
K&B Transportation company Information
K&B Transportation is a leader in both driver pay and driver satisfaction. Started by a driver we still hold the same core beliefs of a small carrier several hundred trucks later. K&B Transportation understand every driver is different, some want a big check, some want home more, some want both. That is why we have a menu of options for drivers from longhaul to local. Secondly we understand that nothing is more frustrating for a driver than being concerned about a paycheck and that is why the majorities of our fleets either have a mileage guarantee or are salaried
Search Other K&B Transportation Jobs