Paper Transport Information
Looking for more home time? More miles? A different type of route? Better pay? Our CDL-A truck driving jobs offer outstanding advantages and benefits for how you like to drive.
At Paper Transport (PTI), we ask every Class A CDL Truck Driver one question before they join our team: What drives you? We want to know why you do what you do, what gets you motivated to get behind the wheel and out on the road. By understanding your goals, hopes, and dreams, we can work together to ensure the PTI family helps you succeed, be happy, and feel fulfilled. Our CDL-A truck driving jobs offer outstanding advantages and benefits for how you like to drive. Call 855-623-0908 or Apply and let's get to know each other and start working together today!
Frequently Asked Questions:
What kind of home time? 50% of our Company Drivers are home daily and 50% of our drivers are home weekly or out at most 14 days. Depending on where you live, we may have a great mix of spotting, short haul, shuttle, regional, and over-the-road opportunities!
What type of freight do you haul? With 80% of dedicated roles, we haul paper, packaging, windows, consumer goods (soaps), non-frigerated foods, beverages, and much more. 99% of our freight is no-touch and mostly drop and hook. We also haul non-dedicated regional freight, as well as Intermodal freight.
Do you offer training for new Class A CDL grads? Yes! For candidates who have recently obtained their Class A CDL, we offer a 3-week paid finishing program with private lodging and transportation provided during the 1-week orientation and 2-weeks one-on-one, on-the-job training with an experienced Driver Trainer. This training is NOT team driving. Your trainer is next to you mile for mile.
Where are you out of? We're headquartered in Green Bay, WI with terminal locations in Jacksonville, FL; Muskogee, OK; St. Louis, MO, Albany, GA; and Dayton, OH as well as maintenance/park locations throughout the Midwest and Southeast.
Pets & Passengers? Yes and no fee! Family passengers must be 10+ years old and non-family 21 years old. Non-home daily drivers may bring up to two pets with them at a time when they're out on the road.
Have more questions? We'd love to chat with you! Call 855-623-0908 or Apply today!
Requirements:
Current Class A CDL
Minimum 0 months experience
No DUI/DWI or other alcohol-related convictions in the last 5 years
Recent Grads Welcome (not eligible for 5-day workweek driving at night until 6 mos. experience has been reached)
Related Videos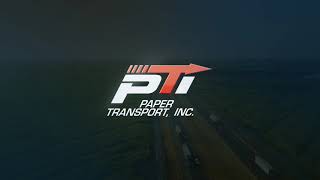 Company Hiring Area
Paper Transport company Information
What Drives You? is what we're known for here at PTI. It's the question we ask every employee and customer. Why? It's because it's not just about what you do, but why you do it. Knowing that allows us to sincerely help people get to where they want to be in life.
Paper Transport is a for-hire truckload carrier that offers regional truckload, dedicated truckload, intermodal, and logistic services. Headquartered in De Pere, WI with multiple park locations/terminals throughout the Midwest and Southern United States, PTI has experienced tremendous growth since its start in 1990 and now employs over 850 professional Class A CDL Truck Drivers along with over 200 driver support professionals.
Search Other Paper Transport Jobs