Titan Transfer Information
IF YOU'RE LOOKING FOR A COMPANY THAT WILL HELP YOU BALANCE LIFE OVER THE ROAD, LOOK NO FURTHER THAN TITAN TRANSFER.
No Carrier Focuses More On Class A Truck Driver Satisfaction Than Titan Transfer! We Jump Through Hoops To Ensure You Get The Home Time You Expect Because Your Family Is Important To Us Too! Join Our Regional Truckload Fleet, Hauling Dry-Van General Commodities All While Earning Competitive Pay! CALL 855-834-1742 or APPLY TODAY!
A TRUCKLOAD OF BENEFITS
Open the door to a balanced life.
Industry-Competitive Salary
WEEKLY BONUS OPPORTUNITIES AVAILABLE
Average $60k annually/Top Drivers earn over $100k annually

Per Diem including lodging and meals
Seniority Bonus
Recruiting Bonus
Vacation Pay
One week after one year
Two weeks after two years
Three weeks after ten years
$1,000 travel voucher and additional time off with pay (up to one week) is available after your five year anniversary
$2,000 travel voucher and additional time off with pay (up to one week) will be available after your ten year anniversary
$3,500 travel voucher and additional time off with pay (up to one week) will be available after your fifteen year anniversary
Additional Compensation
Seven Paid Holidays
Stop-Off Pay
Layover Pay
Driver assist pay
Border Crossing Pay
Hazmat Pay
Paid Safety Meetings
Paid Tolls and Scales (EZ Pass & Pre-Pass)
Driver Benefits
Benefits begin the first of the month following 60 days of employment.
Cigna
Health, Dental, and Vision
Family Coverage
Life Insurance Policy
$15,000 Term Life Insurance
Additional $15,000 Accidental Death/Dismemberment
$5,000 on Spouse
$2,500 on each Dependent Child
Group life insurance available (up to $130,000) with no health questions asked
Short Term Disability
401 (K) provided. For contact information, please contact the Human Resources Department at Titan Transfer, Inc.
Weekly Pay
Direct Deposit
Weekly Home Time
Pet Friendly
Authorized Rider Program
Titan Transfer CDL-A Driver Requirements:
State Specific Valid CDL
23 Years Old
6 Months Experience
Passing Drug Test
DOT Physical & Background Evaluation
We are also looking for Teams! Your Team has a Home with Titan Transfer!
Related Videos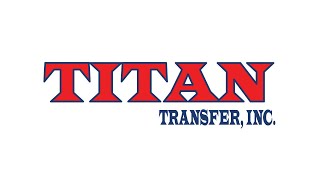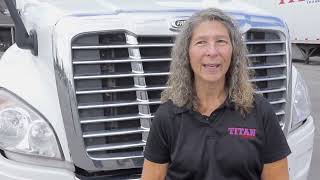 Company Hiring Area
Titan Transfer company Information
ARE YOU READY TO
RIDE WITH US?
Since 2000, the key to success at Titan Transfer has been to treat our employees with respect. In all we do, we are committed to creating a positive work-life balance for everyone, every day. Here at Titan, the roles and responsibilities that our employees have both on and off the road are valued and appreciated. With that in mind, we make all of our drivers a top priority. We know the better you feel about the company you represent, the better you'll be overall. That's why we provide a working environment that helps you to be your best during the week so that you can get back to what matters most.
Search Other Titan Transfer Jobs