Van Wyk Information
At Van Wyk, we appreciate our drivers, and that's why we are COMMITTED to helping them make a better living and have a better life!
DRIVE FOR US!
At Van Wyk, our truck drivers don't have to choose between making a good living and having a good life. We're a family-run company, and we understand the importance of having both. So we make it our goal to offer drivers industry leading pay package along with plenty of home time and the individual respect you deserve.
Call 844-677-0974 or Apply Today!
Here's why drivers choose Van Wyk:
• In 2021 over 45% of our drivers made $80,000
• NEW Driver % pay, Plus 30 cpm for Deadhead
• Assigned fleet managers
• Home every week for 1-2 days
• A premium pay package
• All tractors have refrigerators, Webasto or Espar heaters and high-end specs
• 80% of tractors less than 1.5 years old and are assigned
• All trailers air-ride and less than 5 years old
• Paid weekly
• Health/Dental Insurance
• Paid vacations
• 401K with company match
Here's what we require of our drivers:
• Minimum age of 23 years old
• Class A CDL
• 1 year of recent OTR experience (possible training for inexperienced CDL holders)
• No more than 3 moving violations in past 3 years
• No major violations on MVR in last 5 years
• No major preventable accidents in last 3 years
Related Videos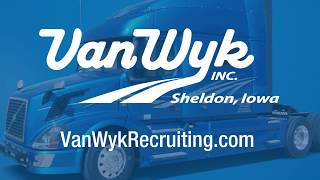 Company Hiring Area
Van Wyk company Information
Van Wyk is a small company with a family environment that believes in fair and ethical treatment of all employees--that means that as a Van Wyk driver, you can rest assured that you will always feel appreciated and respected. We are a stable company with over 55 years of business history (We aren't going anywhere!). With a management team that has been behind the wheel, we understand what it's like to drive.
Search Other Van Wyk Jobs